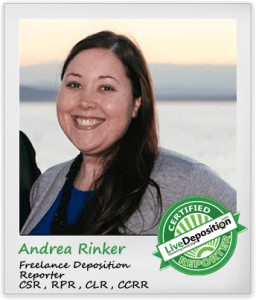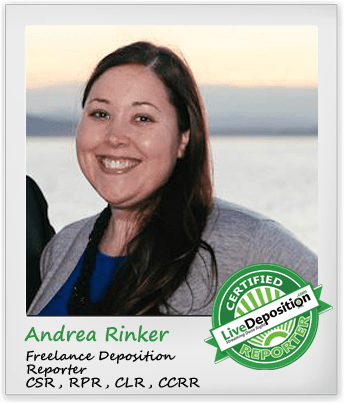 South Coast College students are fortunate to have so many outstanding graduates who dedicate their time and energy to helping them become successful.  Andrea Rinker is one such exemplary alumna.  Here is a preview of her LiveDeposition interview.
Name: Andrea Rinker
Title:  Freelance Deposition Reporter
Certifications:
CSR, RPR, CLR, CCRR
Self-summary in three words:
Eager to learn
When did you begin your court reporting career?
I passed the February 2009 California CSR.
What sparked your interest in choosing court reporting as a profession?
I received my bachelor's degree in Criminal Justice and had given law school a quick thought. I even took the LSAT but did not do well enough on it to where I felt confident being accepted anywhere. I visited South Coast College in Orange to get some information about the paralegal program, and that's when I was introduced to the court reporting world. Court reporting wasn't even a blip on my radar at that point. After a little investigation, I thought being a court reporter would be a very interesting career. I told myself I would try it for six months, and if I wasn't progressing or I didn't like it, I would switch back to the paralegal program. Luckily in six months, I was a 150 goal student and I was absolutely fascinated with being able to write shorthand. I received my 190 card on the one-year anniversary of my starting theory and I eventually qualified for the state exam in 14 months.
Read more about her interview at  http://livedeposition.com/news/beyond-record-andrea-rinker/