Get the Skills to Be a Professional Medical Assistant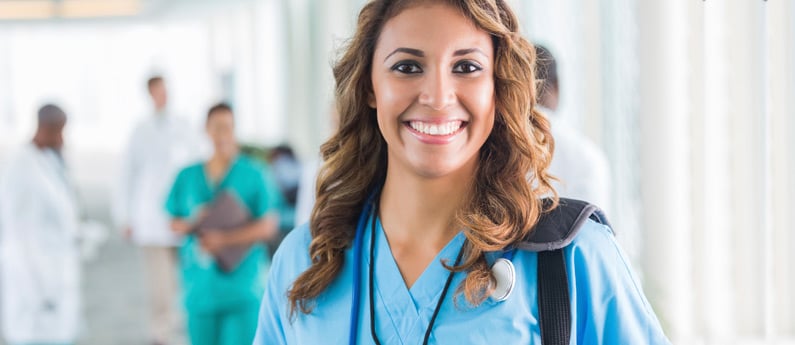 9-Month* Medical Assistant Career Training Program
Medical Assistants perform administrative and patient care duties that keep medical offices running smoothly. In this career you play a valuable role in overall patient care and wellness. If you're a strong multitasker who enjoys interacting with and helping others, and you're looking to start a rewarding career (without spending years in school), you owe it to yourself to explore your potential in the Medical Assistant program at South Coast College.
Become A Qualified Medical Assistant
The Medical Assistant program at South Coast College in Orange provides the hands-on training, practical experience, and industry support it takes to pursue a professional healthcare career. Classes are interactive and led by experts with years of experience working in the field. The hands-on learning approach in the Medical Assistant program, including access to a fully equipped medical lab, ensures that you get to practice the techniques you'll be using every day. Areas of study include:
Introduction to Body Systems
Human Diseases
Clinical Procedures
Medical Terminology
Business Procedures
Microbiology
Surgical Assisting
and More!
Career Opportunities
The medical field is adopting new technology at a rapid pace, and the Medical Assistant program at South Coast College is staying on the forefront. You will learn to use the latest software commonly used in the medical field for record-keeping, insurance billing and much more. As a graduate, you'll have the up-to-date skills it takes to make a smooth transition into any modern healthcare setting.
Graduates can expect to qualify for entry-level positions and may obtain employment in a variety of organizations including:
Medical/Doctors' Offices
Hospitals
Educational Institutes
Pharmaceutical Companies
Insurance Billing Offices
Local, State, & Federal Government Offices
Other Health Organizations
As a Medical Assistant graduate you can also climb the medical career ladder by seeking continuing education and becoming a Licensed Vocational Nurse, Registered Nurse, Surgical Technologist, Respiratory Therapist, Phlebotomist, Ultrasonographer, X-Ray Technologist, and EMT Technician.
Real-World Experience
Healthcare is about helping people, and we believe the best way to learn medical assisting is on-the-job, working with real patients and other medical professionals. As a student in this program, you'll have the opportunity to complete a professional externship in a real healthcare setting. You'll have the chance to gain practical, real-world experience working with knowledgeable medical professionals and make important industry connections before you graduate.
Small Class Sizes
Students learn in an non-intimidating, small class setting. Small class size benefits the students in the academic classes where it is easy to ask questions and interact with the instructor. It is especially important in the laboratory setting where students are given an opportunity to practice more iterations of their skills because of the class size. Externship sites of the Medical Assistant program have remarked about how well prepared South Coast College externs are in the clinical aspect of their training.
Here is a video made by one of the recent graduates of the Medical Assistant program.
Get Certified
South Coast College encourages you and will prepare you to earn your certification and pass the examination to become a Registered Medical Assistant (RMA). Although it is not a requirement for employment in California, this certification gives graduates a further credential that provides a potential hiring and pay advantage.
Get the Support You Need to Launch a Successful Career
Medical Assistant training is about more than a certificate to hang on the wall – it's about getting a professional career you're proud of. South Coast College is dedicated to supporting you throughout your career. The capable, hard working professionals in the Career Services department will be there to make sure you know how to get interviews and present yourself well in them.
Financial Aid is available for those who qualify.
Is A Rewarding Medical Assistant Career Right for You? Get More Information…
If you're interested in learning more about a career as a Medical Assistant and exploring whether the Medical Assistant program at South Coast College is a good fit for you, fill out the form on this page to receive more information.
To speak to a friendly and knowledgeable South Coast College Admissions Representative, give us a call at 714-867-5009.

The Bureau protects students and consumers through the oversight of California's private postsecondary educational institutions by conducting qualitative reviews of educational programs and operating standards, proactively combatting unlicensed activity, impartially resolving student and consumer complaints, and conducting outreach. See our Performance Fact Sheets.
* Program length when completed in normal time.