Official Court Reporter
(Certified Realtime Reporter)
Thank you once again, Isaiah Leslie, Owner of Regal Court Reporters, for sharing this information with us.  We have reprinted the job opening in part to share with our graduates.  However, we have provided a link to the official site.
Click here to go to the official site.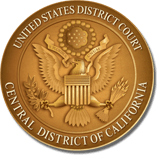 Position Overview:
The United States District Court, Central District of California, is recruiting for Official Court Reporters who are Certified Realtime Reporters.  There are two or more vacancies to be filled in Los Angeles at this time.  The court reporters will report to the Manager of Court Reporting Services for the United States District Court, Central District of California, and to the District Judge to whom the court reporter is assigned.  In addition to the current vacancy, an eligibility list of qualified candidates will be developed from this recruitment to fill potential future vacancies within the district court over the course of the next year.
Representative Responsibilities:
Official Court Reporters' duties include, but are not limited to the following:
Court Reporters are responsible for the verbatim reporting of proceedings held before United States District Judges and Magistrate Judges and for the transcription of those proceedings on request.
Court Reporters must be able to read back all or any portions of the court record, to perform well under pressure, to produce transcripts within strict time limitations, and to work as part of a team of reporters for the Judges of the Court.
Court Reporters must possess the knowledge, skill and ability to produce accurate, simultaneous realtime translation utilizing computer-aided translation.
Court Reporters must be familiar with and adhere to all requirements of the Court Reporter Management Plan for the District.
Court Reporters must comply with all administrative duties assigned by his or her manager and the Court.
Court Reporters must occasionally travel to the courthouses in Santa Ana and Riverside.
Skills/Qualifications:
Candidate must possess at least four years of court reporting experience as a freelance reporter or as a court reporter, or a combination thereof, and must have passed the Registered Professional Reporter (RPR) Examination administered by the National Court Reporters Association (NCRA) or passed an equivalent qualifying examination such as the Certified Shorthand Reporter (CSR) Examination administered by the Court Reporters Board of California.  The candidate must have passed a Certified Realtime Reporter (CRR) Examination administered by NCRA, USCRA or DRA.
For more information on applying for this position, go to the link provided at the top to the official website.  For more information about how you can become qualified to become an official court reporter, click on GET INFO NOW!