Get the Skills to Be a Professional Court Reporter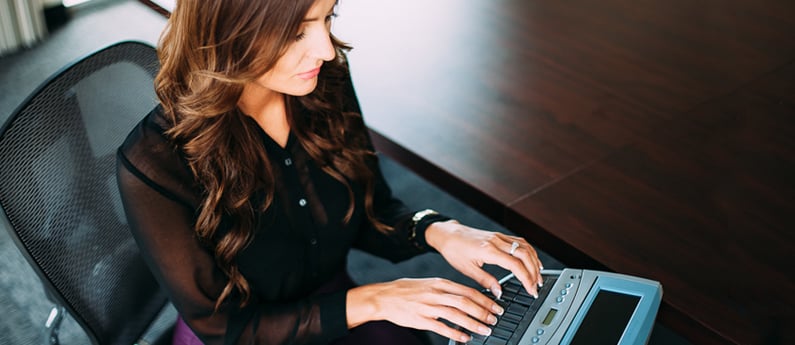 Hands-On Court Reporting Training Program
Court reporters are in demand nationwide, and courts throughout California are looking to hire professional court reporters. It is a fact that California needs not only qualified professional court reporters but qualified stenographers — reporters with court reporting training who have the same qualifications as professional court reporters but who can use their skills in other than the justice system. Stenographers with court reporting training who have the same skills as professional court reporters provide closed captioning for TV, CART reporting for the deaf and hard of hearing, medical transcription, congressional reporting, and more.  South Coast College professional stenographers are in much demand because of the hands-on, personalized court reporter/stenography training they receive.  Just in the last two months, three professional court reporter graduates who received court reporting training from South Coast College obtained officialships in Southern California Courts:  Priscilla Mireles, CSR, Los Angeles county; Kaitlyn Lancaster, Orange County; and Trisha Wiener, Riverside County.
According to the Court Reporting Industry Outlook Report (2012-2013), California leads the list of greatest demand with a projected 2,320 new job openings in the field by 2018. Watch the following video to see why court reporting that now uses the latest technologies is such a fast-paced, in-demand career.
If you're a focused, detail-oriented individual interested in pursuing a professional career with a future, you owe it to yourself to consider your potential as a certified Court Reporter.
Become A Qualified Court Reporter
To become a qualified, certified court reporter, you need to attend a court reporting training program that assumes that you know nothing about court reporting and takes you step by step through the process of becoming a court reporter.   New students often tell us that they wish that they had started attending the South Coast College court reporting training program earlier.  They put off starting because they had reservations about whether they could handle the program, but their fears disappeared after the first day.  The reason is that South Coast College offers a court reporting training program that cares about producing qualified court reporters.  It realizes that the reputation of its program is contingent upon producing outstanding alumni.
To achieve its goal of producing outstanding alumni, South Coast College has gathered a staff of industry experts with years of experience to lead the way with hands-on training to reinforce concepts presented in class.
As a student you, learn directly from industry leaders who know what it takes to succeed and are passionate about helping others get established in rewarding careers.
You'll do your court reporting training in a practical setting including the stenography machines and computer equipment you'll use on the job. Plus you'll have access to a variety of resources, including:
Mock Trials and Depositions
One-of-a-Kind Practice Software
Computer Laboratories with the Latest Steno Software
Roberts Walsh Gonzalez Theory (Taught by Jean Gonzalez)
Graduates — like Priscilla Mireles, CSR; Kaitlyn Lancaster, CSR; and Trisha Wiener, CSR — feel confident and fully prepared to make a smooth transition into the professional world after gaining so much personalized guidance and hands-on experience.
The fun, online quiz takes 3-minutes to complete and you'll get a personalized report. Identify your strengths and social style plus the training and positions you're best suited for. Get Your Career Training Readiness score now.
Get Certified
To work as a court reporter in a state court or deposition reporter in the State of California requires certification by the Court Reporters Board (CRB) of California. Working in a federal court in the state does not require state licensure but may require attaining the Registered Professional Reporter (RPR) Certification by the National Court Reporters Association (NCRA) and Certified Realtime Reporter (CRP) Certification.
South Coast College prepares students to take and pass both examinations.
The South Coast College Difference
South Coast College has a tradition of producing top-quality reporting graduates who are sought after by courts, deposition agencies, and captioning companies. From 2009 to the 2015, South Coast College produced 130 certified court reporters — the greatest number of candidates who have passed all three portions of the Certified Shorthand Reporter (CSR) Examination in the State — compared to the 11 certified court reporters from the local community college located in Cypress, California.
The following is a list of the successful Certified Shorthand Reporters from 2012-2015.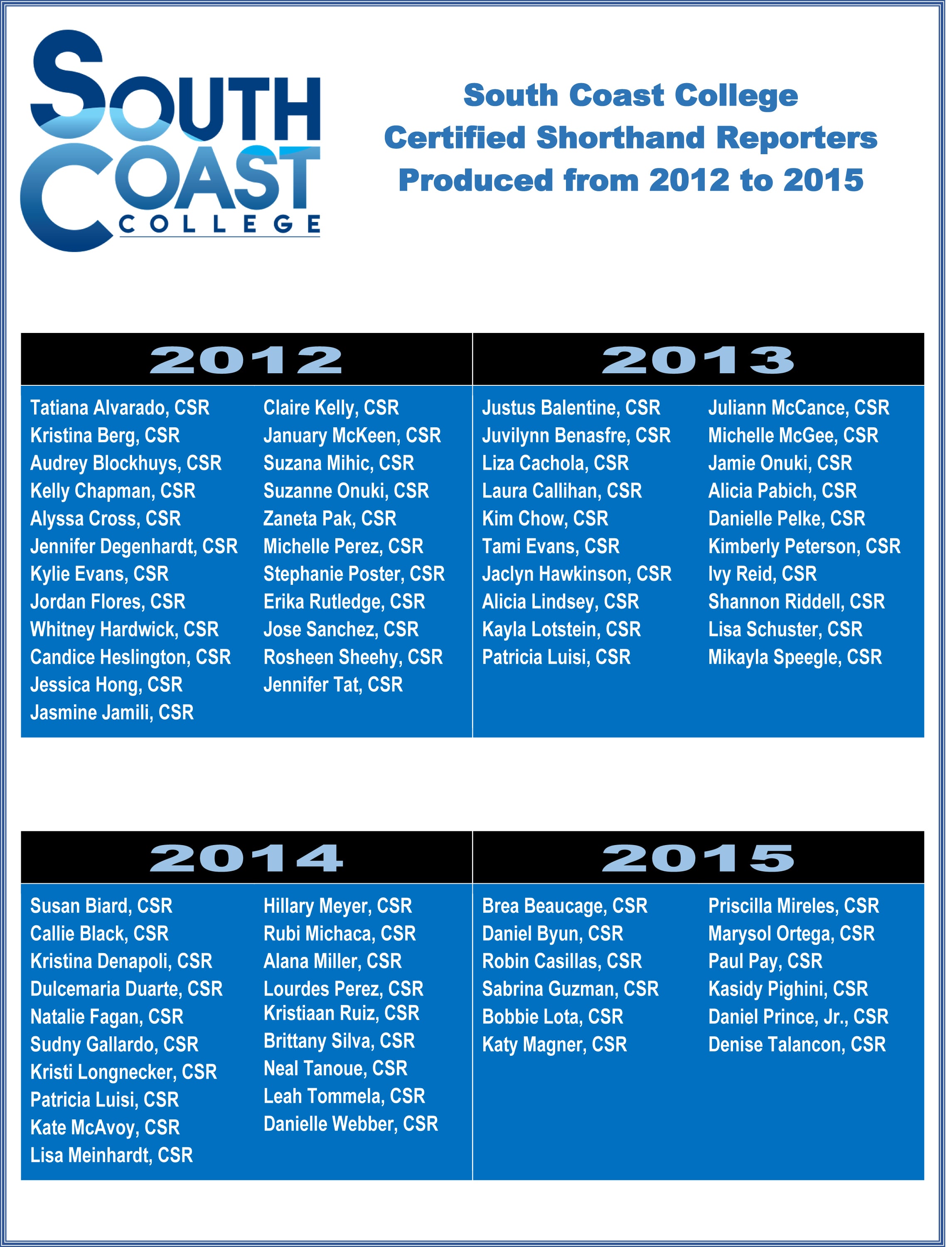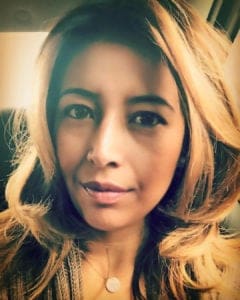 In addition, South Coast College has filled many CART/captioning positions.  Melissa Sosa, CSR, Director of Captioning and CART Services at Quick Caption based in Riverside, is an alumna of South Coast College. She recently returned from Thailand where she captioned an international conference for deaf and hard-of-hearing individuals.
South Coast College is the go-to school in Court Reporting in Southern California. The majority of working Court Reporters in this area are graduates of South Coast College or employers of graduates. Many graduates are now agency owners themselves (Regal Reporting Agency, Hahn and Bowersock Reporting, Todd Olivas and Associates; Jilio Ryan Reporters, LyndenJ and Associates, to name a few)  so when you apply for jobs, employers will recognize the school and know exactly how qualified you are.
"This school is by far the best court reporting school you could ever attend. The classes that are offered at this school make you fully qualified and confident to pass tests. I loved the speed test that you are at, then you drop down to the lower speed for control, and then to the higher speed for pushing. The instructors were always helpful."
– Molly Jones, Official Court Reporter

Get the Support You Need to Launch a Successful Career
At South Coast College, court reporting training leads to more than a certificate or a degree.  It is about opening the doors to a professional career with a successful future.  As a South Coast College alumni, you have access to a great support network that includes students, faculty, staff, and alumni.  South Coast College alumni are known for their ongoing support of students and graduates of South Coast College. Click here to take you to the South Coast College Alumni Facebook Page.
Job Opportunities While You're In School
Many students find employment providing services to the hearing-impaired while they are in school. Kennedy Court Reporters located in Orange County whose daughter, Lindsey Kennedy, CSR, is an alumna of South Coast College, employs students when they have qualified to take the CSR to work as hearing reporters.  Others find employment in rapid-data entry when they reach a certain level of proficiency.  Wherever there is a need for high volumes of data entry, you'll find an opportunity to use the skills you are learning in school. You can work as a high-speed data-entry specialist before completing your court reporting certification. Police departments have need for transcribing investigation reports. Business conferences, board meetings, conventions, and corporate negotiations also require verbatim transcription skills. LyndenJ and Associates, whose owner is a graduate of South Coast College, provides employment for many students while they are developing their court reporting skills. Still others find CART reporting jobs for deaf and hearing impaired students at the local colleges and universities.
Financial Aid is available for those who qualify.
Is a Rewarding Career in Court Reporting Right for You?
Get More Information…
If you're interested in learning more about careers as a Certified Court Reporter, and exploring whether South Coast College is right for you, fill out the form on this page to receive more information.
To speak to a friendly and knowledgeable South Coast College Admissions Representative, give us a call at 1-877-768-9476.